Posts Tagged 'prototype'
Forget gold plating and celebrity altruism — the rarest Leica camera of them all may be made entirely out of plastic. Read more…
Please enable JavaScript to watch this content.
Back in March, Canon announced that it was working on a special 35mm low-light sensor that would blow away all other competition when it came to seeing things in near complete darkness. In order to further prove that point, the company sent a prototype out to shoot tiny fireflies in less than 0.01lux on Japan's Ishigaki Island. Read more…
Boston-based artist and inventor Steve Hollinger has just been granted a second patent here in the United States for his Squito invention, a ball sporting embedded cameras and position sensors that allow for panoramic imagery in reconnaissance and recreational situations. Read more…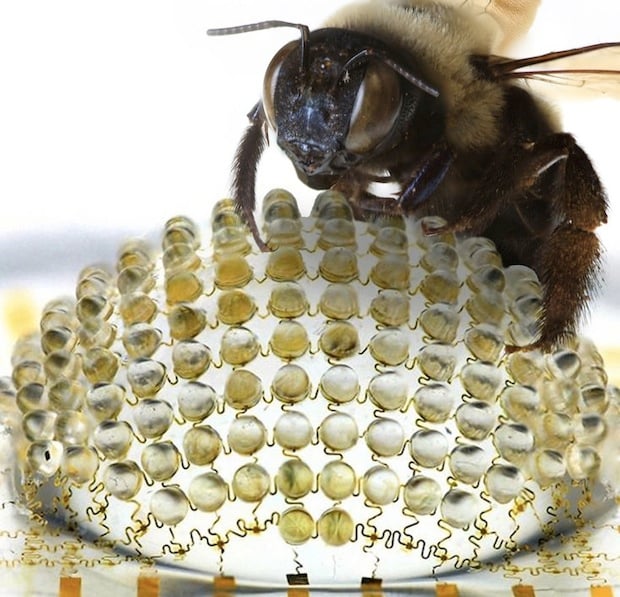 Just like the human eye, the arthropod eye is a marvel of natural engineering. But unlike human eyes, insect eyes approach seeing very differently. Instead of a curved lens focusing an image onto a plane of rods and cones, insects have curved eyes covered by "ommatidia," each acting as a tiny pixel.
In a paper published today in the scientific journal Nature, a team of researchers from the U.S., South Korea, Singapore and China announced that they have managed to create a camera that mimics that type of eye — and all of its advantages and pitfalls along with it. Read more…
PhotoPlus is going down over in New York City in the second half of this week, and that's when we might be hearing a peep out of Canon regarding its rumored high-resolution DSLR. If there's any mention of the camera at all, it will probably at most be an "in development" announcement that confirms rumors but doesn't reveal too much else.
Read more…
It has only been a month since Sony announced its latest flagship full-frame camera, the A99, but rumors are already beginning to emerge regarding the company's next top-of-the-line offering. sonyalpharumors writes that Sony has reportedly marked sometime between May and June 2013 as a tentative release date for its next high-end full-frame:
The camera will be more "photographer" oriented. There are currently a couple of different prototypes. One we heard of has a 36 Megapixel sensor (same as Nikon D800) and built-in vertical grip. Priced well above the current Sony A99. A second prototype has a new 50 Megapixel sensor which goal is to go as close as possible to a "medium format" quality.
The new camera wouldn't be intended to replace the A99, but would instead become the flag-bearer by creating an entirely new tier in the Sony lineup. If the latest rumors pan out, then 50 megapixels may soon become the new standard resolution for flagship DSLRs; Canon is reportedly working on its own high-res (46MP) camera.
---
Update: Reader Scott Hutchison reminds us that back in May, there was a rumor that working on a "A1S" camera with a full-frame 36x36mm square sensor. Hmm…
Researchers at Osaka University in Japan have created a new camera that makes shooting "from the hip" easier by projecting a white border onto the real world — similar to what laser sights do for firearms. The frame line shows exactly the area that will be in the photograph, and allows users to quickly shoot without looking through or at the camera itself. Before you get too excited about the possibility of using it for street photography, here's the bad news: it's more suited for things like snapping QR codes due to the fact that the compact projector is only bright enough to be used in dark places and at close range.
One year ago we featured a novel new device called Instaprint, a location-based photo booth that lets people create instant prints of Instagram photos by simply tagging them with a specific tag. It constantly scans Instagram for its tag, and when a photo is found the image is immediately printed out as a Zink print. Now Breakfast, the company behind the prototype, is trying to turn it into an actual product. They're trying to raise half a million bucks through Kickstarter and a $400 contribution effectively preorder one.
Read more…
Olympus recently filed a patent in Japan for a vari-angle LCD screen. While that's not exactly groundbreaking, the illustrations in the patent appears to show some kind of medium format digital camera. What's more, it looks nearly identical to the Samsung digital medium format prototypes that emerged earlier this year.
Read more…
Shooting photos or video remotely may get a whole lot easier if a startup company named Satarii is able to raise enough funding ($20K) for their idea — a camera base called the Satarii Star that automatically keeps the lens pointed at a remote sensor. We could waste our breath explaining how it works and all the different applications it could be useful for, but the video above does quite a good job.
So far they've built a functional prototype that they showed off at CES, and raised about half their target funding. If you'd like to jump in on the project, visit their IndieGoGo page here.