Posts Tagged 'proposal'
Photographer puts his intervalometer to romantic use
Helena Vieira · Feb 28, 2014 ·
7 Comments »
·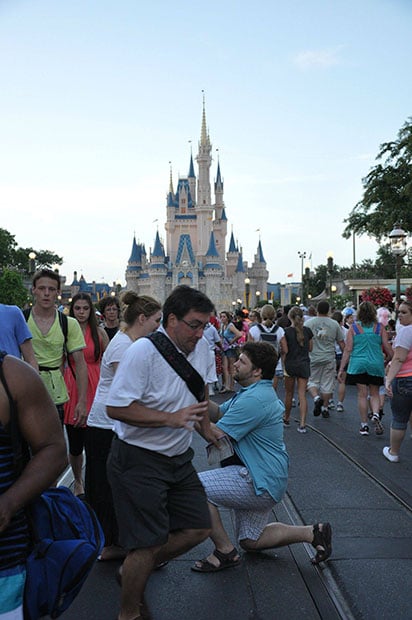 Some unlucky fellow was minding his own business in Disney World recently when he happened to accidentally walk in front of a couple as the man was proposing to his girlfriend. The moment wasn't just captured on camera (shown above) — it has spawned a quirky new Internet photo meme.
Read more…
When Wellington, New Zealand-based photographer Brady Dyer proposed to his then-girlfriend Emma in Florence, Italy last year, he had her capture her own special moment on camera. Dyer writes,
After having the most amazing day ever, we were on the deck of our penthouse apartment drinking Veuve at which point Emma said "this moment couldn't get any more perfect"… She was wrong! I told her to do a big 360 degree video of the sunset finishing on me and I would wave and say hello. [#]
The whole thing "couldn't have gone more perfectly," the photographer says.
When New York City-based photographer Jerrit Pruyn recently asked his girlfriend of 2 years to marry him, he did so in quite a photo-tastic way. Pruyn popped the question through the viewfinder of his old vintage SLR!
Read more…
Hey everyone! I'm really excited to share a personal story with you all. This past weekend I asked my partner to marry me. After weeks of planning, the time had come to decide how I was going to capture the moment.
Unfortunately some of my colleague photographers were unavailable and so the thought of doing it myself crossed my mind. I felt ready for the challenge: photographing my own proposal! (As if it wasn't enough to plan for the actual proposal, I now had to plan on how to capture it.)
Read more…
Late last year, we introduced you to NYC-based photographer Jordan Matter's viral photo series Dancers Among Us, a set of photos that depicted professional dancers performing difficult dance moves in everyday life situations.
Many people fell in love with that photo series, and two of those people are college sweethearts Betsy and Peter, the latter of which recently put together an awesome Dancers Among Us proposal with some help from Matter himself. Read more…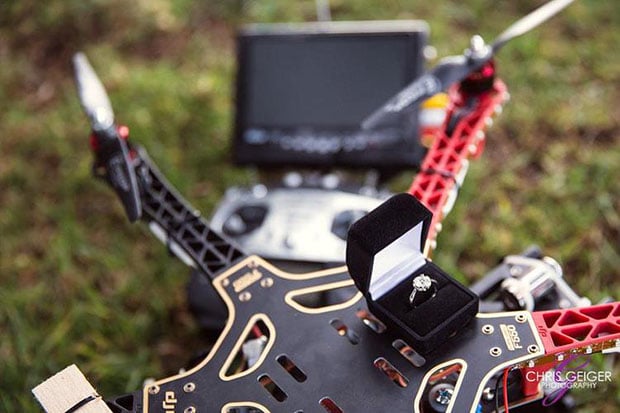 Aerial cameras based around RC helicopters are becoming widely used these days for all kinds of photographic and video-related purposes, but here's one use that we've never seen before. An RC helicopter camera was recently used to both deliver an engagement ring and capture the proposal as it went down.
Read more…
On November 21st, 2012, Matthew Hartman attempted to pull off an epic marriage proposal that his girlfriend would talk about for the rest of their lives. He led her to a large rock surrounded by ocean waters at Laguna Beach, California, and then sang her a song that he wrote for the occasion. Then he got down on one knee to pop the question. Or, at least that was the plan.
A large ocean wave had other plans for the couple. At just the wrong time, it decided to crash the party and sweep the girl off her feet before Hartman could. The whole thing was captured by friends in the video above.
Read more…
Can you believe the proposal photo above wasn't planned? In fact, the photographer wasn't even aware of what was going on. It was snapped this past Sunday by 20-year-old Sydney University student Michael Keane, who visited Sydney's Bondi Beach early in the morning to capture photographs of the sunrise. After returning home to post-process the images, Keane zoomed into his photos and was surprised to find that he had accidentally captured a very romantic moment happening way in the horizon.
Read more…
Photographer Patrick Lu always carries around his Olympus OM-D EM-5 camera around. "Every day. Everywhere," he says.
That came in handy last week, when Lu and a friend were at the capital in Austin, Texas. His eagle-eyed friend somehow noticed that a man nearby was about to propose, and Lu was able to snap some stealthy photos of the event, including the beautifully framed one above.
Read more…