Posts Tagged 'powerful'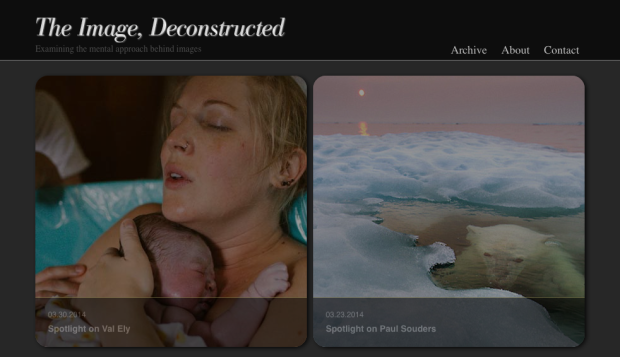 We love seeing and hearing about the process of creating an image. The motivation behind a photo combined with a glimpse at how it was shot can be both inspirational and educational, which is a powerful combo.
But while there are plenty of behind the scenes videos and articles dedicated to studio photography, one of the genres you don't get to hear as much about is photojournalism. That's where The Image, Deconstructed website comes in. Read more…
Editor's Note: The video below contains strong imagery. None of it is NSFW per se, but it might not be suitable for all viewers.
---
March 8th was International Women's Day, and although Google Glass will no doubt be used in the future to document many a wonderful celebration on this day, this year it was instead used to send a strong, shocking message about domestic violence. Read more…
We hope you never get sick of hearing about stories that show the true power of photography to affect change, because I doubt we'll ever get sick of finding and sharing them. The most recent such story we've stumbled across is told by photojournalist Marcus Bleasdale, whose work has already helped curtail the efforts of warlords in Africa who are exploiting children in their attempt to rule Congo. Read more…
When they were tasked with putting together a powerful advertising campaign for Crisis Relief Singapore, ad agency Publicis Singapore mixed heart-wrenching photos with a hard-to-swallow tagline to create something quite moving. Read more…
Sponsored Post
MIOPS is a new smartphone-controlled camera trigger that combines all of the features photographers want in a high-speed camera trigger into one convenient device.
A few hours ago, the official Facebook page of the First Army Division East posted the above photograph with the caption:
Soldiers of the 3rd Inf Reg continue to stand guard at the Tomb of the Unknown Soldier, despite the worsening weather conditions surrounding Hurricane Sandy. The tomb has been guarded continuously since 1948.
The powerful photograph instantly attracted tens of thousands of Likes and Shares, and began going viral online.
Read more…
Freelance photojournalist Tracey Shelton captured the striking image above showing the instant a tank shell exploded in a Syrian rebel outpost earlier this week. She was filming the group of four rebels using her Canon 7D and 28mm, and had just set her camera on a tripod before the explosion occurred. The blast claimed three casualties, while one of the four men, the rebel standing directly in front of Shelton, escaped with minor injuries. Afterward, Shelton selected a number of stills from the 30fps footage and published them to Global Post (the news company she's freelancing for), along with a vivid account of what had taken place.
Needless to say, the images elicited a strong reaction from the Internet community, with people calling them stunning, heartbreaking, and the most powerful war photographs they had ever seen. Check out the article on the Global Post for the full sequence of images.
Life and death in Aleppo [Global Post]
---
Thanks for sending in the tip, Jim
---
Image credit: Photograph by Tracey Shelton/Global Post
Scott Lamb of BuzzFeed created this exceptionally moving video that asks the question, "what makes a great photograph great?" Lamb's voice narrates a slideshow of some of the most powerful photographs captured throughout history — photographs that capture life, love, death, sacrifice, joy, and suffering. Captions accompany the images, so we recommend watching the video twice and pausing on each photo to make sure you catch all of them (otherwise it may be hard to know what's actually happening).
In case you're wondering, the background track is "Hypnagogia" by Andrea Rossi.
Based in New York, 46-year-old Chris Arnade is a banker by trade and a passionate photographer in his free time. While those attributes may seem pretty commonplace, it's Arnade's subjects that make his work stand out: Arnade focuses his "hobby" on sharing the faces and stories of drug addicts in the Bronx. He writes,
I post people's stories as they tell them to me. I am not a journalist, I don't verify, just listen.

It's very easy to simply run with your crowd, to not explore the amazing diversity and perspectives that are offered. It's also very easy to ignore others. By not looking, by not talking to them, we can often fall into constructing our own narrative that affirms our limited world view. What I am hoping to do, by allowing my subjects to share their dreams and burdens with the viewer and by photographing them with respect, is to show that everyone, regardless of their station in life, is as valid as anyone else. [#]
You can check out Arnade's photograph in this Flickr set or read an interview he did with The Gothamist.