Posts Tagged 'pinterest'
Want to get more likes on Instagram? Make sure your images are predominantly blue, spaciously cropped, bright and mildly desaturated. Read more…
When it comes to images, Pinterest is a bit of a copyright nightmare. It's not unusual for people to pin photos without any information or attribution, which inevitably leads to others using or sharing the photo without permission.
Still, you have to give the company credit, it's trying to "wake up" so to speak. In addition to a deal struck up with Flickr last year, Pinterest has just announced a new arrangement with GettyImages, in which Pinterest will pay Getty so that images from the service might be given proper MetaData. Read more…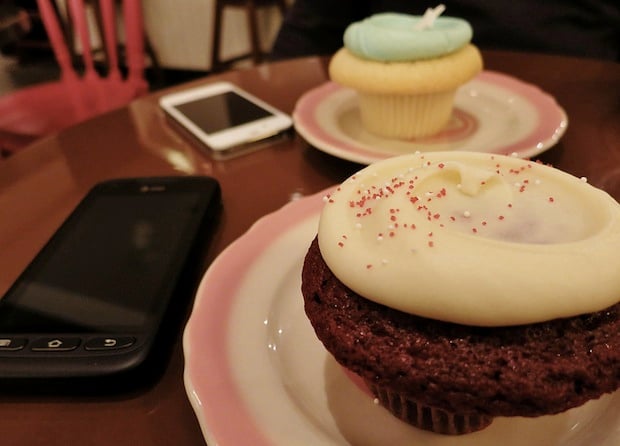 Believing the world cares what you had for lunch may still be a symptom of narcissism, but a recent study seems to indicate that it could at least be a useful form of narcissism.
The study, which was conducted by marketing researchers at Brigham Young University, found that the more time people spend looking at pictures of food, the less interested they become in actually eating that same foods. Results were published recently in the Journal of Consumer Psychology. Read more…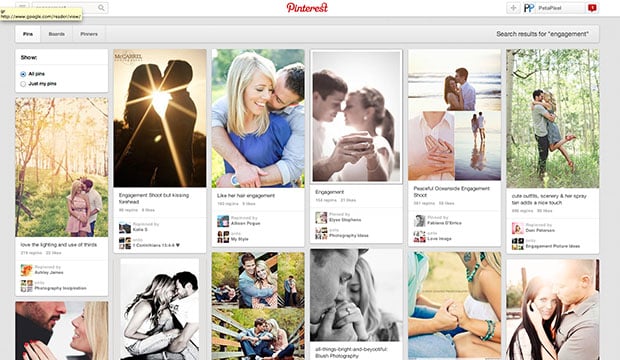 It's incredible how Pinterest has taken the wedding industry by storm. My husband and I have always been, and still are, big supporters of Pinterest. It has been such an incredible tool for our business and has helped so many brides find our work. It can be a great place for brides to gather wedding ideas, color schemes, flowers they love, etc. It wasn't until recently though, have we started seeing the negative affects of Pinterest on wedding photography.
Pinterest can discourage the creative process.
Read more…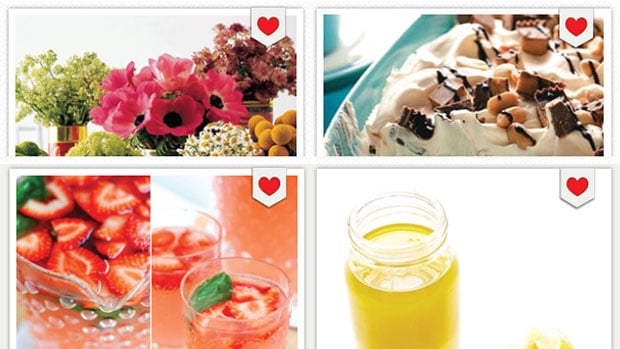 Why is it that some photographs go viral online while others are left by the digital wayside? Are there certain elements in photos that make them more "sharable" to Internet users?
Curalate, a company that creates social media analytics software, decided to tackle this question by analyzing the photographs published by brands to Pinterest.
Read more…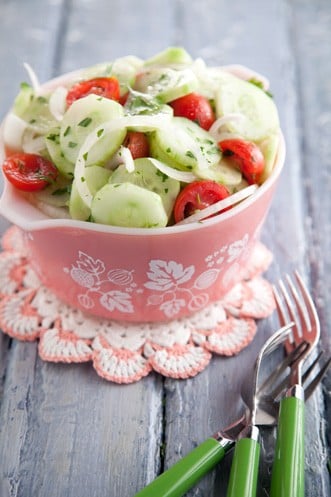 Is the photograph above the "perfect" Pinterest picture? It's a simple salad photo that originates from TV cooking show host Paula Deen's recipe website. Since being published, it has been repinned 300,000 times and liked 8,000 times on Pinterest. A Philidelphia-based analytics firm believes that it's the prototypical popular Pinterest photo.
Read more…
Last year there was a minor controversy when the Portland Police Department began posting photos of arrested Occupy protestors to Facebook. It may or may not have been inspired by the PPD, but Pottstown, Pennsylvania newspaper The Pottstown Mercury has begun sharing photographs of wanted individuals through the popular photo sharing service Pinterest.
Read more…
Lytro has been pushing to make their living pictures — interactive, clickable photos that have a variable focus point — easier to share. Lytro is a camera that has a very specific, proprietary way of saving and viewing photographs, so sharing these photos can be tricky. Nevertheless, Lytro has been able to quickly expand living photos across the web through social media, most recently to Google+ and Pinterest through Google Chrome extensions.
Read more…
Back in 2006, a pornography publishing company named Perfect 10 attempted to sue Google over copyright infringement, claiming that the thumbnails displayed on Google's image search did not fall under "fair use." Ultimately, the Supreme Court wouldn't even hear the case, allowing the ruling that thumbnails are fair use to stand and handing Perfect 10 yet another loss (they've sustained many in this area).
Read more…
Users of both Flickr and Pinterest will be happy to know that the two companies have decided to collaborate. Because of the high volume of Flickr photos that end up pinned (often without any credit), the companies have decided that it would be in the best interest of photographers and users alike to add a "Pin It" button on the Flickr site. In this way photographers who allow their photos to be pinned are properly attributed, while Pinterest users can now share photos with a few easy clicks