Posts Tagged 'panorama'
The Amazing Story Behind TIME's Panorama from Atop the One World Trade Center
Mike Franz · Apr 23, 2014 ·
4 Comments »
·
Inspired by the 360º panoramic images that turn the world around us into a little planet of its own, German photographer Jonas Ginter wanted to step it up. And so he decided to use video rather than just a still image. Read more…
Firefly photography isn't a novel concept. In fact, long-exposure images of these glowing creatures lighting up beautiful forest scenes have appeared on PetaPixel a couple of times before… we've even featured a tutorial on the subject. But photographer Vincent Brady's firefly time-lapse above IS novel.
It's novel, not because it's a time-lapse of fireflies (we're sure that's been done a time or two) but because he combined many different photographic techniques to create something truly breathtaking. Read more…
20 gigapixels might not seem like a lot in the world of super-high-res images. After all, we shared a 681 gigapixel image of just the moon's north pole the other day. But when you're talking infrared images of the milky way, the 20-gigapixel panorama that NASA just released yesterday is the clearest ever captured, and took them TEN YEARS to shoot. Read more…
Last year, TIME teamed up with Portland-based software company GigaPan to create something special: a 360-degree panorama from the top of the Freedom Tower (aka. The One World Trade Center). The image was supposed to represent "the rebirth and healing of Lower Manhattan," and above we have an inside look at how it came together. Read more…

There's no rule against having a little fun while proving a technological point, even if you're Microsoft.
So when the software giant's research arm wanted to flex some image-editing muscle by creating a 20-gigapixel panorama of Seattle, they decided to bring local artists into the picture (literally) and encourage them to do creative stuff while the camera was clicking away. Read more…
When the Mars Rover Opportunity landed on our planetary neighbor on January 25th, 2004 it was undertaking a three-month mission. Well, it's a full decade later and the little guy is still alive and kickin' (in a robotic kind of way).
And what better way to celebrate that achievement then by taking a good ol' fashioned, 2014-like selfie? Read more…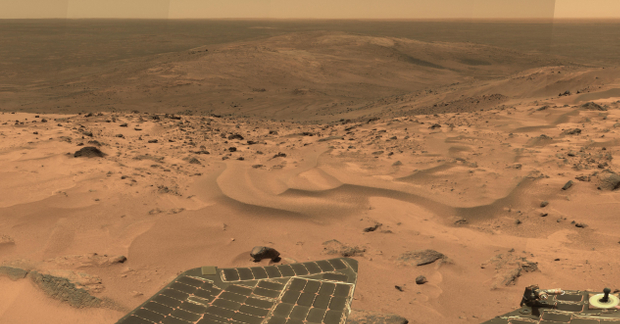 We love a good Mars panorama — be it a this selfie panorama by Curiosity or this gorgeous mountain-top shot by Opportunity — and now we have another one for you that is, arguably, the best of them. Read more…
"Here, boy! Go fetch the camera! Good dog!" Such conversations could become commonplace as panoramic camera balls threaten to become the next offbeat photography meme. Squito appeared on the scene in July, Bubl Technology is already well on its way to producing the Bublcam, and now comes the Panono, which launched its Indiegogo fundraising campaign today. Read more…