Posts Tagged 'NIKKOR'
Nikon has announced two new lenses alongside its new D5500 entry-level DSLR: the 300mm f/4 telephoto and the 55-200mm f/4.5-5.6 II versatile zoom.
Read more…
If you've been dying to get your own copy of the super rare Nikon Reflex-Nikkor 2000mm f/11 mirror lens, here's a prime opportunity to snag one: a copy of the lens has appeared on eBay, complete with a leather "lens cap" and a nice aluminum case for transporting the beast. The buy it now price is a cool $32,777.
Read more…
About once per year, one of the rare Nikkor 6mm f/2.8 lenses out there pops up on eBay when some camera shop or another picks one up. The price ranges from $60K to $160K and it's gotten to the point where we usually just ignore the listings because… well… we've covered them enough times.
But when one of our readers tipped us off to a new listing earlier today, we took notice, because this one comes with a sample video of the lens in action. Read more…
Ever wonder how the tech packed inside of your new Nikon lens actually works? How does Vibration Reduction provide 4.5 stops of stabilization? And what about the silent motors, how do those work?
In a video released earlier today, Nikon Asia decided to peel away the outer shell of its glass and show you, revealing the technology that makes a Nikkor Lens a Nikkor.
Alongside its new D750 full frame DSLR, Nikon has also announced a new 20mm f/1.8 prime lens and a SB-500 Speedlight.
Read more…
Most lenses nowadays come with a multipurpose chemical coating, meant to not only protect the lens a bit more from accidental scratches, but to also reduce reflections and aberrations and provide a clearer image. How the coating actually works might be a mystery to many of us though. Read more…
Not to be outdone by Canon's lens announcements from yesterday, Nikon has come back with a few major announcements of its own. And foremost among them (at least in terms of price) is a brand new AF-S 400mm f/2.8E FL ED VR lens that will pair very well with the new AF-S TC-14E III teleconverter… well, assuming you have about thirteen grand handy. Read more…
Are you a wildlife or sports photographer with a whole lot of cash just burning a hole in your checking account? Well, you're in luck, because according to Nikon Rumors, there's an updated version of the Nikkor AF-S 400mm f/2.8G ED VR lens in the works. Read more…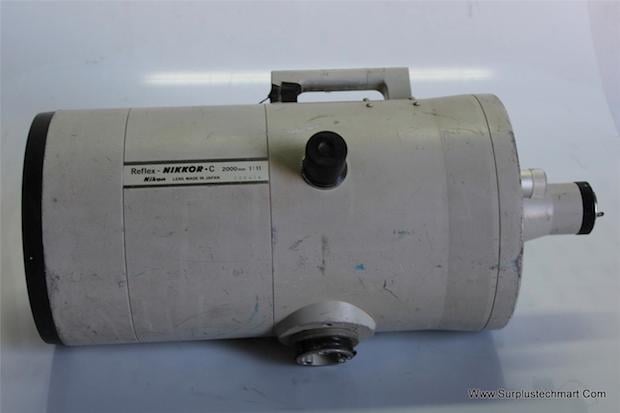 The last time we wrote about the Nikkor 2000mm f/11 C Reflex lens was in 2010 when a working version of the behemoth was up on eBay for the not-so-affordable price of $19,950. Given that information, how much would you pay for a broken, beat-up version of the same lens 3 years later? Well, someone on eBay thinks it's worth $25K. Read more…
We've seen all manner of household items take on the shape of your favorite lens (think mugs, humidifiers and portable speakers), but this is the first time we've seen a full-fledged alarm clock lens. And what's more, this Nikkor-inspired clock is being made and given away by Nikon itself! Read more…