Posts Tagged 'NASA'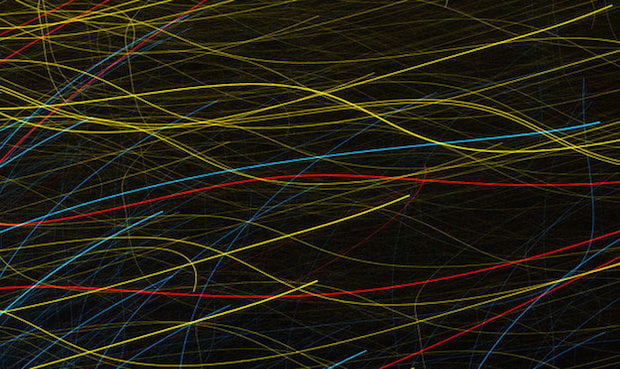 The Hubble Space Telescope recently decided to make a foray into light painting when it created the image you see above (full res below). A total accident caused by a glitch, the final image turned out more like modern art than the typical awe-inspiring photography we're used to seeing from Hubble. Read more…
20 gigapixels might not seem like a lot in the world of super-high-res images. After all, we shared a 681 gigapixel image of just the moon's north pole the other day. But when you're talking infrared images of the milky way, the 20-gigapixel panorama that NASA just released yesterday is the clearest ever captured, and took them TEN YEARS to shoot. Read more…
We're not sure how high-res you usually like your lunar photos, but we're darn near certain NASA has gone leaps and bounds beyond that with their latest mosaic. At 681 gigapixels, this mosaic image of the Lunar north pole is by far the highest-resolution image of this area that has ever been created. Read more…
Tonight, at 9pm EST, more than 70 nations will broadcast the first episode in the 13-part remake of the show Cosmos. It will be the biggest launch ever for a global TV series.
But before Neil deGrasse Tyson takes over for the iconic Carl Sagan, explaining and enchanting a whole new generation by sharing the wonders of the our universe, NASA wants to get you excited in its own way.
Just like the agency did ahead of the Oscars, the NASA Goddard Photo and Video Flickr account has just uploaded a stunning set of 43 images that will hopefully inspire a bit of awe and get you that much more excited for tonight's premier. Read more…
There's nothing like a Hubble Space Telescope image to break up all of the law and stock photography-related news (and there has been a LOT in the last 24 hours). Then again, this video and image aren't the most peaceful NASA has ever released, given they show a galaxy tearing itself apart as it hurtles through a particularly harsh part of our universe. Read more…
The saying goes, "your cell phone has more computing power than all of NASA in 1969. NASA launched a man to the moon. We launched a bird into pigs."
Thankfully, in addition to launching furious balls of feathers into evil swine, we also use our phones for taking photographs. And just as our phones have more computing power than all of NASA in 1969, our phones also have better imaging capabilities than many of the astrophotography endeavors of the past. Read more…
Spoiler Alert: The first paragraph of this article gives away a major part of the movie 'Gravity.' Skip past it if you haven't seen the movie yet.
---
"You should see the sun shining on the Ganges. It's amazing…" says George Clooney in the movie 'Gravity,' as his character floats through the cold vastness of space, cool as only a very George Clooney-ish character can be when facing insurmountable odds and indescribable beauty all at the same time.
But while Sandra Bullock's character had more important things to worry about just that second, chances are anyone reading this doesn't. And so, ahead of the Oscars where 'Gravity' is bound to take home at least a few of the golden statuettes, NASA has released a beautiful photo series to remind us what the view really looks like from space. Read more…
A new photo released by NASA and taken from the International Space Station shows just how dark North Korea really is, and we don't mean figuratively. Taken on the night of January 30th as the ISS was passing over the Korean Peninsula, a nearly completely blacked-out North Korea jumps out at you, surrounded by its well-lit neighbors. Read more…
Taken on February 19th (and available in high-resolution here) the satellite image above shows what the great lakes look like when over 80% of their surface is covered in ice. The image was captured by the Moderate Resolution Imaging Spectroradiometer (MODIS) on NASA's Aqua satellite, and beyond being nice to look at, it shows just how harsh the last couple of months have been in North America.
According to the Great Lakes Environmental Research Laboratory (GLERL), rarely do they see more than 80% of the lakes iced over. In fact, this amount of ice on the lakes (88% at its peak) hasn't been seen since 1994. For more info or if you'd like to see more satellite images of the lakes covered in ice, head over to NASA's Earth Observatory website by clicking here.
---
Image credits: Photographs courtesy of NASA