Posts Tagged 'milkyway'
A sharp, light and cheap option for mirrorless astrophotographers
Jun 04, 2014 · Ian Norman
·

24 Comments »

·
As a photographer, there is nothing more intriguing to me than the unknown. What's out there and where will it lead me on my next adventure under the stars?
Upon taking my first photo of the stars, I came to realize it wasn't even close to replicating what was in the skies above me. Nothing man-made will ever be perfect. There are always improvements to be made in the never-ending journey to replicate what nature has been producing for billions of years.
With practice, however, I was able to break down the physics behind capturing high quality star shots and start to produce some nice results. Over time, I've been able to perfect this recipe with actions and inputs in my camera; and, with words and knowledge, teaching others to capture this beauty on their own. With that in mind, here is my tutorial that will teach you how to take some awesome shots of the Milky Way and night sky. Read more…
20 gigapixels might not seem like a lot in the world of super-high-res images. After all, we shared a 681 gigapixel image of just the moon's north pole the other day. But when you're talking infrared images of the milky way, the 20-gigapixel panorama that NASA just released yesterday is the clearest ever captured, and took them TEN YEARS to shoot. Read more…
What exactly makes one landscape, milky way time-lapse stand head and shoulders above the crowd? In a genre so over-saturated that some people have lost faith in it altogether, how do you create a time-lapse worth international attention?
We're not entirely sure, but we do know that the video above fits the bill just right — it is, in a word, spectacular. Read more…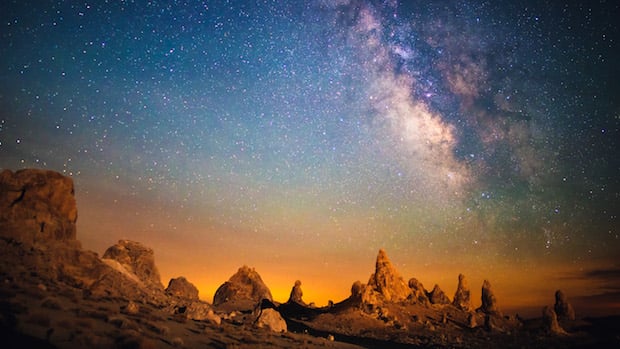 The lens is the most important factor in the image quality of a landscape astrophoto.
There are a number of lens traits that will determine the quality and usability of a camera lens for astrophotography. Let me explain what sort of thinking should go into choosing and using a lens for making astrophotography and Milky Way nightscapes. Read more…
You think 41 megapixels is a lot? Try 1000 megapixels! That's how much resolution the camera attached to the ESA's Gaia satellite is packing; a satellite that, as of yesterday, has left the Earth in its quest to photograph things that have never been photographed before at a resolution as of yet unheard of in space photography. Read more…
There's been a lot of gear talk today — both serious and comical in nature — so we thought we'd shift gears and share a little bit of inspiration in the form of a gorgeous time-lapse of the night sky over the Canary Islands. Read more…
The "quit your day job and go on the adventure you've always dreamed of" piece of advice is given so often as to almost be cliché. And yet, many of us are still blown away when someone actually finds the guts to do just that.
And, well, if they capture a time-lapse so gorgeous it gets National Geographic's attention in the process, all the better for us photography blog types. Read more…
Nothing starts your weekend off on the right foot like an epic time-lapse, and that's exactly what we have for you here. Put together by an astronomy grad student at the University of Hawaii, this beautiful film captures the goings on at the Mauna Kea Observatories, one of the best places to study astronomy (and take some stunning astrophotography) in the Northern Hemisphere. Read more…
When we see video of the Milky Way, it's usually not video per se — more often than not it's a time-lapse. That's because the exposure time needed to capture the Milky Way in most situations makes shooting a standard video a challenge. One production company decided that technology had advanced far enough to give it a try though, and what they came up with was quite cool. Read more…