Posts Tagged 'journey'
Yesterday, our own Alan Steadman shared some advice. He told you to go out and explore, to travel, to see the world and meet new people so that those experiences could inform the stories you tell when you're working behind the camera.
Well, if you were looking for a shining example to go with those words, look no further than photographer, writer and cyclist Rob Lutter, then man who is currently 15,000km (about 9,300 miles) into a 40,000km (about 25,000 miles) photographic journey around the world. Read more…
I started getting into photography when I was in my mid-to-late teens. I bought a 35mm Minolta XG7 at a local yard sale during my freshman year, and around the same time I took a 3 week summer darkroom course at a local community college. I got really in to it, but when I finally finished high school I went straight into the workforce. I jumped around various manual labor and retail jobs until I was 21. This is when I got married, and shortly thereafter I began considering the distant possibility of making a career out of my hobby.
Read more…
Want to know how long it takes to visit every single subway station in Manhattan? Answer: It takes about nine hours.
That's what young couple James Doernberg and Kai Jordan found out last week when they visited each of the 118 stations in the system, snapping a self portrait at each stop.
Read more…
The transition from being a "hobbyist" to being a "professional" photographer was slow and seemed to creep up on me. I've been professional now for 6 years (as in, it's been my only job), and you can find my work on my website. Here's the story of my journey.
Read more…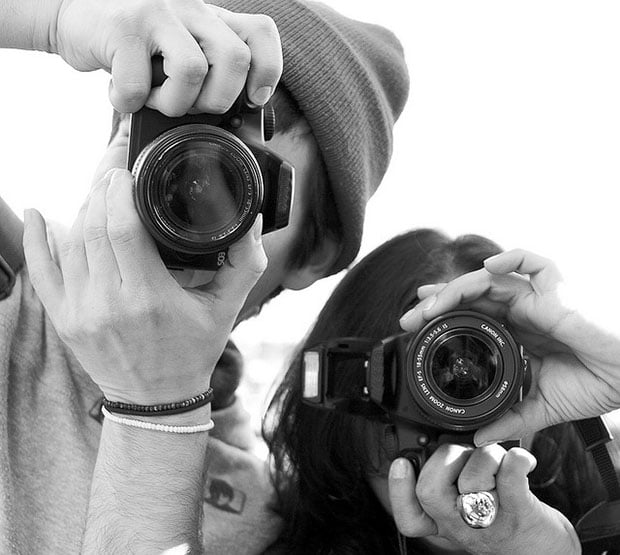 I have always been interested in photos. When I was younger, I used to pore through drawers of photos and photo albums that my parents made, looking at them, rearranging them and remembering the moment that they were taken.
I loved those photos. When I went to college and returned home for holidays and summers, I would always return to those drawers, collect the photos to view the new ones and to catch up on everything that had happened while I was away. When I looked at the pictures, I tried to imagine myself there and what I would have been doing at that time.
Read more…
If you feel feelings of wanderlust and jealousy easily, you might want to stay away from the story of Alex Chacon. He's a guy who recently completed a 503-day solo journey on a motorcycle. He rode 82,459 miles across 22 countries in both North and South America. Chacon also captured photos and videos throughout the journey in order to document his experience.
Read more…
Tom Carter may have seen more of China, its lands, and its people than any other Westerner on record. The American photographer spent two years backpacking across all 33 provinces of China, traveling over 35,000 miles, seeing 56 different cultures, and shooting over 10,000 portraits of the people he met.
Read more…
Have you ever seen an entire river from start to finish, from source to sea? That's what photographers and adventurers Will Stauffer-Norris and Zak Podmore set out to do back in October 2011. The duo spent 113 days journeying down the Green and Colorado Rivers, traveling 1,700 miles from the mountains of Wyoming to the Sea of Cortez in Mexico. The journey ended in January 2012.
Read more…
The short 1-minute video above is a beautiful time-lapse showing a train ride in Norway that spans not just distance, but seasons. It was created by the Norwegian Broadcasting Corporation, which recorded the exact same scenic 453-mile journey from Trondheim to Bodø in each of the seasons. The footage was then synchronized to show the same location at each time, and then made to transition from one to another in a seamless fashion.
You can find the full 10-hour videos and a behind-the-scenes explanation of how this project was created over on the company's website.
Nordlandsbanen: minute by minute, season by season [NRK via The Creators Project]