Posts Tagged 'humorous'
Giving Lomography's Petzval lens the full Photo Geek treatment.
Jul 09, 2014 · Roger Cicala
· Comment ·
The didn't-turn-off-the-flash mirror selfie, the plane wing cloud porn photograph, the 'this is my office for the day' humblebrag, overuse of hashtags… all of them make an appearance in this humorous parody sketch by comedians Tripp Crosby and Tyler Stanton.
Dubbed 'Selfies Anonymous,' the video imagines what "a 12-step group for people who struggle with selfies" would look like.
(via Laughing Squid)
In 2004, The Daily Show with Jon Stewart took on a burgeoning technology that they saw as a completely nonsensical mix of two things: the camera phone. As Ed Helms puts it in the "digital watch" segment above, the technology "combines the rapid battery depletion of a high-powered digital camera with the image production capability of a phone." Read more…
When did every photo become stunning? And if every photo is stunning, is any photo stunning?
Jun 27, 2014 · Frank McKenna
· Comment ·
Mr. Forthright — YouTube's own 'old and bold' advice giver who has taught people how to do everything from 'how to say no to drugs' to 'how to pretend to work at work' — today takes on the dreaded selfie. Read more…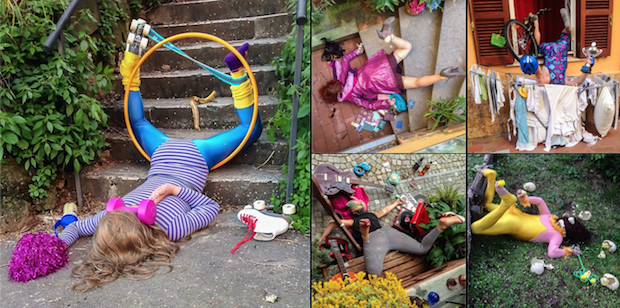 Italian photographer Sandro Giordoan has taken to creating an ongoing series of tragic-but-humorous images that brilliantly depict people's willingness to put the safety of their material objects ahead of their own. Read more…
Here's a little chuckle for your Monday morning. You may have heard the stories of discrimination and sometimes outright violence faced by Google Glass users in some parts of the country.
People who are afraid they're being inconspicuously photographed or videotaped (and they sometimes are) by Glass wearers are at times lashing out against the would-be invaders of their privacy. Read more…
Consider this a friendly reminder for any wedding photographers who haven't already heard it or maybe even forgot the tip when we shared it almost exactly a year ago.
When you're trying to find the perfect location to photograph the wedding party, take into account the stability of the location of choice, and particularly avoid flimsy docks. If you don't, your subjects might end up like the poor folks in the short video above. Read more…
There was a time, before selfies and social networks and WiFi built in to most consumer-level cameras, that getting a group shot in a busy tourist setting required two steps. Step one: ask a stranger to take your group's photo, and Step Two: apologize profusely as, one by one, every person in your group keeps handing the kind stranger ANOTHER camera so they can have a picture too.
Those days are, for the most part, gone. But back in 2009, an Australian comedy show called The Chaser's War on Everything had some fun with 'step two.' Read more…
Say you're a space enthusiast; and say you find yourself bidding on an old Russian high altitude spacesuit; and then, say you win that auction. What would you, as a skilled photographer with a brand new, awesome prop on hand, do with it?
We can't speak for you, but we can show you what photographer Tim Dodd did, and it's just plain fun. Read more…