Posts Tagged 'hollywood'
A young woman was fatally stabbed last night after photographing homeless men holding offensive signs while begging in Hollywood.
Read more…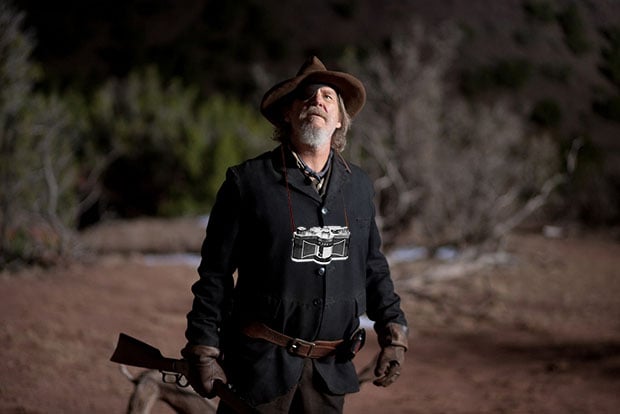 Actor Jeff Bridges has been nominated for six Academy Awards for his work on the silver screen. In 2010, he walked away from the award ceremony clutching a statuette after winning the Best Actor prize for his role in Crazy Heart.
When he's not playing various characters in front of a camera, Bridges is well known for his interest in being behind the camera. He often serves as an unofficial behind-the-scenes photographer on Hollywood movie sets, documenting what things look like from an actor's perspective.
Read more…
Here's a lighthearted dose of humor to get you through the workday: Thumbs & Ammo is a humorous new photo blog with a tagline that says, "Real tough guys don't need guns, they just need a positive, can-do attitude." Each image in the ongoing blog is a movie still or poster from a famous flick, with the action heroes' guns replaced with thumbs-ups.
Read more…
Paparazzi photography is a topic that has come up quite a bit in recent days, with most of the stories putting the camera wielders in a pretty bad light. Joerg Colberg over on Conscientious has a thought provoking piece on how photographers' rights seem to be trumping basic human decency — with the blessing of our culture.
I am not going to actually show the photograph I am going to write about. [It] shows a young woman in the center of the frame who is surrounded by six male figures […] five are photographers. They're photographers we call paparazzi. The young woman – actress Sienna Miller – is caught "mid-action": Her posture looks defensive, her arms are raised, in particular her right one, as if to defend herself from the paparazzo at the left edge of the frame whose gaze is centered on her […] The activities that produce photographs like the one I am talking about here are widely accepted.

If you did not know anything about paparazzi your impression might be very different: A young woman surrounded by young men, in a very defensive posture, looking terrified – that's imagery we usually attribute to assault, to the presence of physical or emotional violence […] Does our right to make or take any photograph really trump people's right to live dignified lives?
Meditations on Photographs: A Terrified Young Woman Surrounded by A Group of Male Photographers by an unknown paparazzo [Conscientious]
Actor Joseph Gordon-Levitt has become one of the hottest stars in Hollywood in recent years, appearing in a number of major blockbuster movies (e.g. Inception, The Dark Knight Rises, Looper, Lincoln). Back in 2006, as he was still a smaller name in the industry, Gordon-Levitt had a run-in with a couple of paparazzi photographers.
Having a video camera with him, Gordon-Levitt decided to turn the camera lens on the two men to capture a glimpse into the world of celebrity photography. The encounter can be seen in the video above, titled "Pictures of A**holes," which Gordon-Levitt uploaded to YouTube (Warning: there's some strong language).
Read more…
Supercuts of movies are all the rage these days; here's one that'll be of interest to photography and camera enthusiasts. Simply titled "Photographers," the video was created by English artists Mishka Henner and David Oates, who spent hours upon hours watching more than 100 movies. The duo extracted short snippets from each one and spent months turning them into the giant whirlwind tour seen in the video above (warning: there's a dash of language, violence, and risqué business).
Read more…
Wealthy people who want to flaunt their wealth are attracted to shiny and pricey things. It's no surprise then, that more and more Hollywood celebrities are gravitating toward one particular brand for their photographic needs: Leica. Alex Williams of The New York Times writes that the stars aren't simply adopting the revered marque — some are learning how to use it too:
"If celebrities are going to be seen with a camera, for better or for worse, Leica does lend a certain cachet," said Michael Holve […] "It seems a Canon or Nikon is somehow bourgeois, or even pedestrian, by comparison."

The swelling ranks of famous M-system devotees reach beyond those with a well-chronicled affection for the camera, like Brad Pitt. In recent years, Daniel Craig, Jude Law, Louis C. K., Miley Cyrus and many other celebrities have popped up in paparazzi shots toting Leicas.

[…] It is easy for cynics to sniff, but many Leica-toting celebrities take their photography seriously. Brendan Fraser, an aficionado, has had his work featured in the prestigious Leica Gallery in New York. And Mr. Pitt, who has appeared on the cover of Interview magazine holding a Leica M7, earns praise from photographers in Leica forums for his work, including a cover shoot of Angelina Jolie for W a few years ago.
Williams also makes the observation that the camera's minimal features and manual controls naturally divide the celebrity owners into serious photo enthusiasts and posers.
Click if You Can Afford It [New York Times]
Earlier this month we wrote about a new Keanu Reeves-produced movie titled Side by Side, a documentary about the major shift going on in Hollywood away from film and toward digital. In addition to the interesting subject matter and star studded list of interviewees, here's another thing that makes the movie awesome: PetaPixel makes a cameo.
Read more…
Good news for film photography lovers: Kodak film may be okay for at least a few more years. The company has signed new contracts with four major Hollywood movie studios that will allow it to provide film for movies at least through 2015.
Read more…
What did famous movie characters look like when they were kids? That's the question answered by a series of cute advertisements by Brazilian ad agency Globalcomm.
Promoting a brand new movie theater that opened up in the shopping mall Praia de Belas, the photographs show youthful versions of characters such as Jack Sparrow and Forrest Gump.
Read more…