Posts Tagged 'gigapixel'
The Amazing Story Behind TIME's Panorama from Atop the One World Trade Center
Apr 23, 2014 · Mike Franz
·

8 Comments »

·
20 gigapixels might not seem like a lot in the world of super-high-res images. After all, we shared a 681 gigapixel image of just the moon's north pole the other day. But when you're talking infrared images of the milky way, the 20-gigapixel panorama that NASA just released yesterday is the clearest ever captured, and took them TEN YEARS to shoot. Read more…

There's no rule against having a little fun while proving a technological point, even if you're Microsoft.
So when the software giant's research arm wanted to flex some image-editing muscle by creating a 20-gigapixel panorama of Seattle, they decided to bring local artists into the picture (literally) and encourage them to do creative stuff while the camera was clicking away. Read more…
You think 41 megapixels is a lot? Try 1000 megapixels! That's how much resolution the camera attached to the ESA's Gaia satellite is packing; a satellite that, as of yesterday, has left the Earth in its quest to photograph things that have never been photographed before at a resolution as of yet unheard of in space photography. Read more…
Do you remember the 320-gigapixel photo taken from atop the BT Tower in London? That 360° panorama, shot by Founder of 360-cities Jeffrey Martin, holds the title of world's largest photo. But just because you have the top spot, doesn't mean you have to stop.
Another of Martin's creations, this one shot from the lower observation deck of the Tokyo Tower, has earned him the number two spot as well. Read more…
Researchers at the California Institute of Technology have come up with an inexpensive way to boost the resolution of common microscopes by a factor of 100, allowing medical clinics in developing countries to conduct complex tests with existing equipment.
Read more…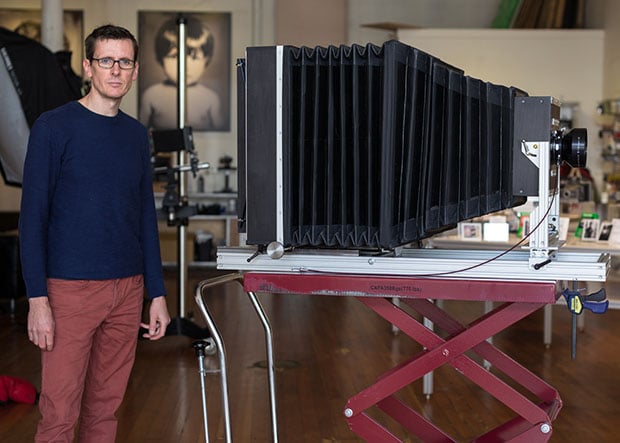 Gigapixel photography is all the rage these days, as photographers all over the world compete to hold the record for "world's largest photo," but one photographer in San Francisco is participating in a very different way.
Michael Shindler, a photographer at the tintype studio Photobooth, has built a custom giant tintype camera that shoots portraits that are the analog equivalent of a gigapixel photo.
Read more…
Remember that 50-gigapixel camera being developed by Duke University scientists? Since we reported on the project last year, researchers have created a spin-off company called Aqueti for bringing the technology "into the world for everyone to experience." The camera they've developed will soon be making public tours, and we're starting to get a peek at what it's capable of.
Read more…
There's a slew of super-large panorama pictures available on the web, but when was the last time you heard about a picture that spans well over half the diameter of Earth?
That's exactly what NASA's Landsat Data Continuity Mission captured last month from a whopping 438 miles above the surface of our great blue marble. Measuring in at an impressive 6,000 miles in length and 120 miles wide, the panorama stretches from Northern South Africa to East Russia. NASA calls this work of art 'The Long Swath', and it comes in at 19.06 gigapixels.
Read more…
I focus on a relatively obscure (though rapidly becoming more popular) area of photography called gigapixel-resolution photography. I use a robotic panoramic mount to capture tens if not hundreds of images of the same location and then stitch the images together to create a single massive photograph. I've combined this technique with High Dynamic Range imaging to create HDR photographs that are anywhere from 200 megapixels to 4 gigapixels in resolution size.
Read more…