Posts Tagged 'ethics'
On a photojournalist's duty to clearly, accurately and respectfully report tragedy
Jordan Stead · Apr 14, 2014 ·
2 Comments »
·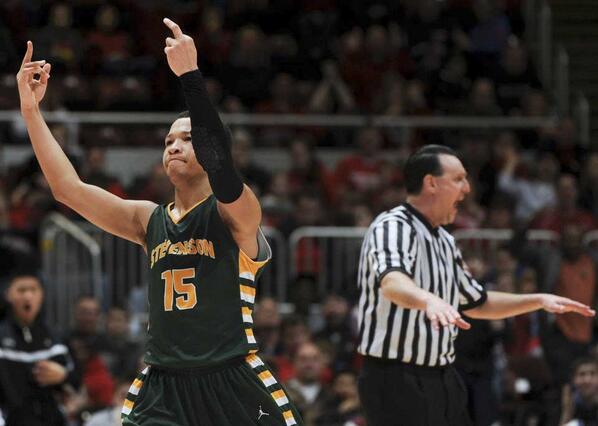 The photo above clearly shows star Stevenson High basketball player Jalen Brunson flipping off the crowd… or does it? The photo, which has caused an online firestorm and almost got the youngster suspended from a tournament, is being called into question after video and another photographer's coverage show that it captured something that only existed for a fraction of a second — a moment that was gone before anyone present saw it. Read more…
Addressing the often mis-answered question: "what constitutes a professional photographer"
Ming Thein · Oct 25, 2013 ·
43 Comments »
·
Yet another prize winning photographer has been accused of visual deception. Subsequently, Paul Hansen's World Press Photo of the Year passed the forensic review that was set up hurriedly — by WPP — to address the scandal, but it has become clear that the image was substantially "improved" in post-production.
Read more…
Pictures like this drive me nuts. I call it Meanwhile, Back at the Supreme Court. It captures the boisterous scene outside that building as right and left wing demonstrators clashed after the contested election of 2000. While all this was happening, President George W. Bush was delivering his first inaugural address in the background over loudspeakers. It was an exciting and historic experience to witness and document, but until now, I've never shown this image to anyone. As a matter of fact, it didn't even exist until last night.
The reason? It's fake. The moment it depicts never happened.
Read more…
I'd love to say I coined the term "Like farm", but it's entirely possible I read it somewhere before, as a brief search on that term turned up other articles on the growing phenomenon of content farms on Facebook. For a while now, I've been watching my own news feed fill up with unattributed photos and artwork. And I think we've all seen the equally unattributed and ubiquitous quote art (either graphic design or simply pasted over photos). Although the amount of this content seems to rise and fall, it has seemed like it is growing of late. Or perhaps I've just become more sensitive to it?
Read more…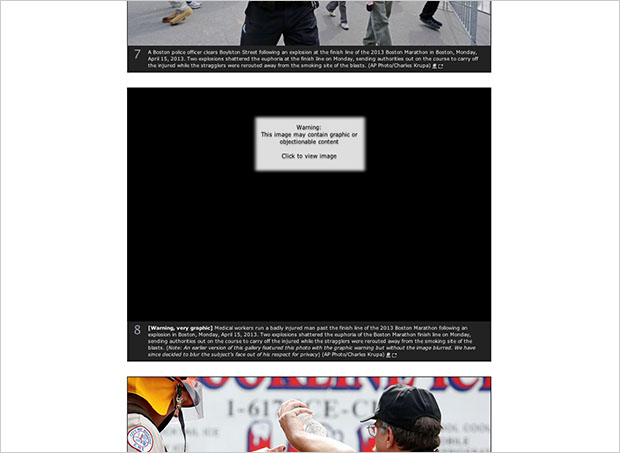 Before I begin with an observation of a photo that emerged from yesterday's horrific bombings, I'd like to first take a moment to acknowledge the insignificance of my thoughts vis a vis the tragedy that has unfolded. There have been many great pieces that have already emerged in the first 24 hours like this one from Bruce Schneier of The Atlantic. That said, I blog about salient issues in photography, and there is no better time to discuss an issue than when it is in our collective consciousness.
Read more…
Madeleine Corcoran over at Duckrabbit has published a sharp criticism of photojournalist Samuel Aranda's decision to license his most famous conflict photo to Canadian electronic band Crystal Castles for use on their album cover and merchandise.
Read more…
This striking photo, taken by Magnum photographer Paolo Pellegrin, has been making the award rounds recently, sweeping up first and second place trophies for the photog's mantle. According to the description, the photo portrays a "former Marine Corps sniper," and is part of a series of photos taken in a rough part of Rochester, NY called "The Crescent."
Pellegrin's ethics, however, are now being called into question by a BagNewsNotes article, which points out that the man in the photo, Shane Keller, was neither a sniper nor does he live in The Crescent — he was headed to a shooting range at Pellegrin's request, as part of a portrait shoot. Read more…
Heads up, celebrities: nothing is too personal for the lenses of money- and star-hungry paparazzi photographers. Actress Evan Rachel Wood found out the hard way today after The Daily Mail published paparazzi photographs of her leaving a hospital with an ultrasound scan image clutched in her hands. The article was titled, "Baby's first picture! Pregnant Evan Rachel Wood can't stop smiling as she emerges with ultrasound scan." Understandably, Wood was furious.
Read more…