Posts Tagged 'encouragement'
Passion won't keep you in business.
There, I said it. I'm sorry, but it had to be said. #sorrynotsorry
Read more…
Here's a quote from a recent article I read titled "'Do What You Love' Is Horrible Advice": "It's easy to confuse a hobby or interest for a profound passion that will result in career and business fulfillment. The reality is, that type of preexisting passion is rarely valuable."
Um…no.
Read more…
18-year-old Saar Oz of Creavite created this beautiful and inspirational video for people who are just starting out in a creative field such as photography. It's easy to become frustrated (and even give up) when you experience "the gap" between your skills and your tastes, but the important thing is to never give up.
Read more…
Remember when I wrote "Dear New Photographer…" a few months ago? One of the big points I emphasized was valuing your photography and business skills.
Every year, on New Year's Day, the Internet is swarming with shiny new 52 Week Projects or 365 Week Projects directed specifically to photographers. And don't get me wrong — I love these projects! The idea behind them is to get people shooting more, and shooting more outside their own comfort zone.
Read more…
I love New Year's. Halloween, Christmas and National Cat Day (obviously) are high on my list too, but New Year's holds a special weight for me. It's the resolutions that I'm so addicted to.
I love making them. I love hearing them. The idea of a clean slate, filled in with good intentions and exciting possibilities just makes me bubble with anticipation. Yes, I realize I sound like a delirious 12-year old, but my entire personality is a bit like a delirious 12-year old…plus the New Year is here and I'm all sorts of giddy!
Read more…
Despite the video's title, the short, encouraging snippet above from photographer Joel Grimes isn't about finding a specific set of characteristics that define "a great photograph." Instead, it's about finding out what a great photograph is to you.
It's a matter of taste, discovering your personal vision, and then coming to terms with the fact that not everybody is going to love what you do. Read more…
Everyone has fears, even the most successful photographers in the business. The key to overcoming those fears is to manage them rather than spending time and mental energy dwelling on them.
During Stand Out! events in Los Angeles and San Francisco, several photographer speakers were taken aside and asked about the greatest fears in their careers. The responses speak for themselves, with almost every photographer saying that one needs to 'hustle' and 'take risks' to succeed.
(via Fstoppers)
If you've been dreaming of making photography your full-time occupation, photographer Scott Robert Lim has some no-nonsense, sugar-free advice on what it takes to become, not just a better photographer, but a great photographer who can compete in the landscape today. Read more…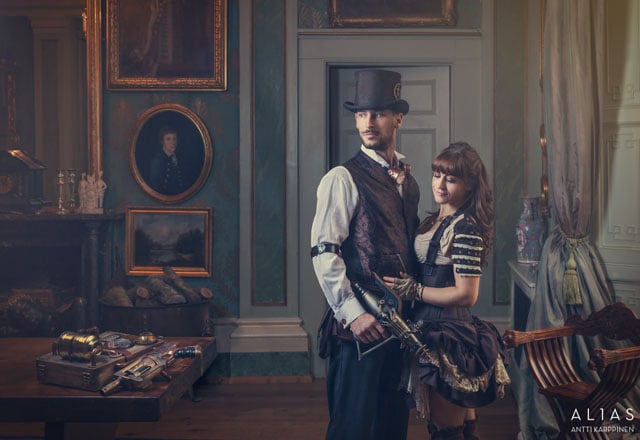 This is a story about networking, giving back, friendship, trust, #sharingiscaring and steampunk.
Before I moved to Cardiff, Wales, I decided that I wanted to do some "pro bono" projects since I've noticed that they provide inspiration and sometimes good things you didn't even expect.
Read more…
@chadders_dm special thanks to @FAMediaOps #gwsMarc they win the prize no question pic.twitter.com/ueDxKB2HgQ

— Dickie Pelham (@DickiePelham) June 13, 2014
On the tenth of April, The Times chief sports photographer Marc Aspland was in a terrible car accident. The crash, which occurred in Harpenden, Hertfordshire, left him with brain hemorrhaging, nerve damage and two broken collarbones.
It was these injuries that led to Aspland missing out on two of the world's largest sporting events, Wimbledon and the World Cup. But after news of the photographer unable to make it to these events spread about, a number of athletes started to team up to send support his way. Using the hashtag #gwsmarc (get well soon, Marc), a number of well-known tennis, cricket and football athletes have teamed up to show their support. Read more…