Posts Tagged 'composition'
Update: The Foundation of Henri Cartier-Bresson has asked that this article be taken down. Apologies.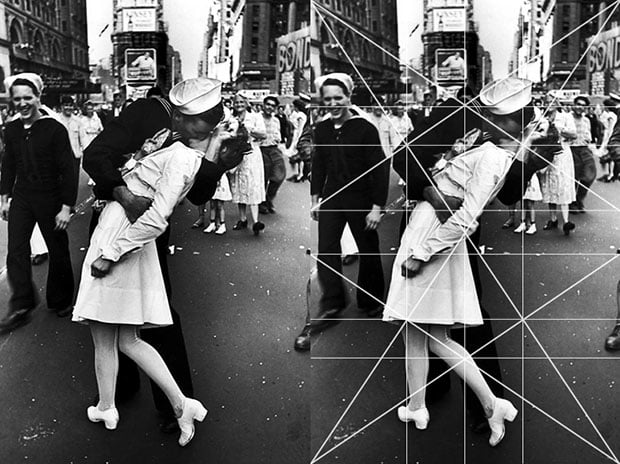 Has someone ever asked you why you like an image? Beneath the surface of great picture, there is a geometric design in hiding. During World War II, photographer Alfred Eisenstaedt worked for the early version of the Associated Press and went on to become a Life Magazine photographer, taking over fifty cover shots for them. Without getting too deep into Eisenstaedt's personal story, I will say that he started photography with very little formal training.
Read more…
Here's a primer for beginning photographers on the concepts of aspect ratios and compositional theories.
Read more…
American photographer Ray K. Metzker has had a long and distinguished career in photography, and is well known for his cityscape and landscape images. Many of his street photographs exhibit what Henri Cartier-Bresson refers to as the "Decisive Moment" — that moment in which all the subjects and details in a scene come together just perfectly in your viewfinder.
Read more…
Want to see whether or not your favorite photographers are following the rule of thirds when composing their shots? Programmer and photography enthusiast Alex Dergachev has created a simple browser bookmarklet that overlays RoT gridlines over any (or almost any) web photograph.
Read more…
In this B&H Event Space seminar, David Brommer takes you "Beyond The Rule of Thirds" by discussing many different aspects of photographic composition. The entire seminar will take about two hours to watch from start to finish, but the information Brommer covers — from positive and negative space, to theories of color and balance and other advanced composition — is highly informative for amateurs, and may even benefit some pros.
Better Photographic Composition – Beyond the Rule of Thirds [YouTube]
Here's a talk Photoshop guru Scott Kelby gave at the recent Google+ Photography Conference on how to "crush the composition". It's a talk that goes beyond the basics of rules of thirds, leading lines, and repeating patterns.
Here's a tutorial by skateboarding photographer Michael Burnett in which he discusses various composition tips and techniques. His area of expertise is in shooting skateboarders, but the tips are very applicable for other types of photography as well.
Read more…
"The Catch" is one of the most famous plays in American football history, and Walter Iooss Jr.'s photograph of Dwight Clark leaping into the air is one of the game's iconic images. Paul Lukas of Uni Watch has published an interesting analysis of the photograph and why it "works":
I've been fascinated by the famous photo of the Catch for years and have always thought it to be the greatest photo ever of NFL action, and possibly the greatest sports photo, period. The photo has always been very visually pleasing to me, so I recently decided to find out why.

Out of curiosity I applied the golden ratio, the rule of thirds, and perspective to the photo, and I was completely blown away by the results. Now I know why this photo has always been so visually stunning to me: Compositionally, it is divine. I've prepared a series of exhibits to support my points.
If you aren't familiar with these two rules of composition, check out this article.
This great video lesson by San Francisco-based interior photographer Scott Hargis teaching how to compose shots when photographing the interiors of homes. Stepping into the scene itself like Hargis does is a great way to teach composition.