Posts Tagged 'classic'
Or: Valuable art appreciation 101
William Van Beckum · Oct 08, 2013 ·
77 Comments »
·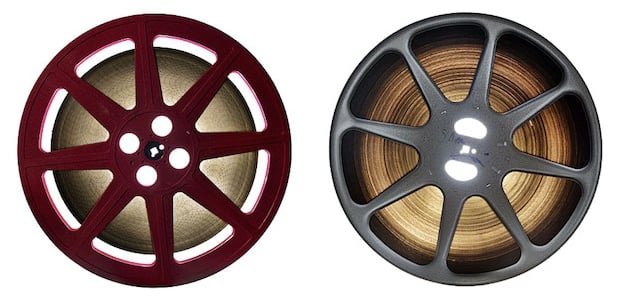 'The Unseen Seen' is a project by Austrian photographer Reiner Riedler that captures the beauty of classic cinema in an unconventional way.
By way of his friend Volkmar Ernst, Riedler was able to get access to the old film roll archive of the The Deutsche Kinemathek in Berlin. He then photographed a few hundred rolls — ranging from those of classic movies to ones with interesting titles — to produce a series of beautiful film roll images that speak volumes about the films themselves. Read more…
Watts Martin of Coyote Tracks has an interesting piece titled "Iconic" that discusses the idea of trade dress — the reason why Apple doesn't have any branding on the front face of the iPhone:
You don't need to see the name plate on a Ford Mustang or a Corvette or a Porsche 911 to recognize one. Or a Coke bottle. Or, once you've seen one, a Tivoli Audio tabletop radio. Or a McIntosh amp. These products have a design language that's become part of their brand identity [...] That's what Apple wants, too: products that look like Apple. They've nailed it. You can look at a computer or a tablet or a phone being used in a coffee shop and you can immediately tell Apple or not Apple even if you can't see the logo. And this is virtually unique in their industry: you'll usually need the logo to know exactly what the not Apple product is.

This is why trade dress battles are so important to Apple. Try introducing a soda in a container that's easily mistaken for a Coke bottle and see how far "har har har, you can't patent curved glass!" gets you as a defense. If somebody makes a product that can be easily mistaken for an Apple device, then Apple is going to do whatever they can to get that product either off the market or changed.
DSLRs are pretty uniform in their appearance, so we don't see much fuss about trade dress in that sector, but it's interesting that there isn't more tension between Leica and Fujifilm — two companies that both offer cameras without front branding.
Iconic [Coyotke Tracks via Daring Fireball]
Beauty may be only skin deep for us humans, but crack open a classic rangefinder and there something both nostalgic and beautiful about the components therein. The people behind Ilott Vintage — a Miami-based camera restoration project — know this, and so when they're restoring an old Minolta Hi-Matic 7 or Olympus 35RD, they sometimes take the time to make a little video showing off the craftsmanship and components we don't always get to see.
Getting your hands on one of these restored masterpieces will cost you a pretty penny (think a couple thousand), but the classic camera you get will be more than just a collectors item, it'll actually work. Head over to their website for more info on the company and a look at their selection, or check out their Vimeo page for more classic camera eye candy.
(via Gizmodo)
Writer Emily Cleaver takes adorable photographs of her infant son Arthur that recreate famous scenes of classic films. Can you guess the movies these photos are referencing?
Read more…
If you've never shot with a large format camera before, you might find this video illuminating. In it, photographer Simon Roberts walks us through the process of making prints using a 4×5 plate camera, from setting the camera up to watching the giant prints roll out of the machine.
Because it's quite a slow process, you think much more about the composition…you take a lot more care and thought in crafting the image.
(via ISO 1200)
Classics in Lego is a super creative project by Mike Stimpson in which he recreates famous photographs using Legos.
Dalí Atomicus

Read more…
Here's a photograph of paparazzi taken back in 1932. Looks like some things never change (paparazzi), while others do (check out those beastly cameras!).
---
Image credit: Photograph from the Wikimedia Commons.