Posts Tagged 'cameraobscura'
There's nothing new about time-lapse photography, and calling the camera obscura new borders on insanity, but when you put the two together you get a pretty cool combination that might just qualify as novel, if not unique.
That's what photographers Romain Alary and Antoine Levi have created with their series of "pinhole movies," shot time-lapse style inside massive camera obscura rooms in Paris, India, and even inside a boat cabin. Read more…
Photographer Justin Quinnell is a pinhole photography master. Over the years we've featured his work taking six-month long pinhole exposures that show sun trails, as well as his DIY camera obscura kit that allowed you to display an upside-down version of the outside world in the room of your choice.
His latest project, however, is different from any we've seen before. Meant to be used as a game on the festival circuit, the I-Scura (as he calls it) is a massive DIY camera obscura you wear on your head like a helmet. Read more…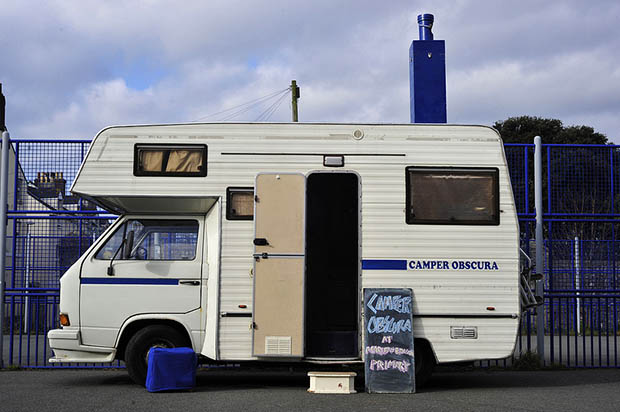 If you're ever in England and come across an old camper van with the words "Camper Obscura" splashed across the side, knock on the door and say hi to photographers Jonathan Blyth and Matthew Pontin. Since the summer of 2010, Blyth and Pontin have traveled widely around the South West of England, teaching people about photography from the rear cabin of the vehicle.
Read more…
In an effort to educate the general public on the age-old art of the camera obscura, New York artists Sandra Gibson and Luis Recoder have set up a 10-foot by 10-foot walk-in version in the city's Madison Square Park.
Surrounded by the Flatiron District, the installation offers an inverted look at the neighborhood, as well as the opportunity to learn a little bit about photography's roots. Read more…
We've shared several articles featuring the camera obscura and the many uses it has been put through over the years. From a roaming camera obscura used for photography workshops, to the possibility that some of painting's greatest names used them as an aid, the "technology" has really gotten around.
We've even shared videos and kits you can use to turn any windowed room in your house or apartment into your very own camera obscura. But what happens when a professional photographer grapples with the concept? If Cuban-born photographer Abelardo Morell is any indication, some pretty amazing inverted landscapes.
Read more…
Did you know that some of the most famous master painters from centuries past may have actually used camera "technology" to aid them in creating their masterpieces? According to the hotly debated Hockney-Falco thesis, some well-known artists likely used rudimentary camera obscura rooms as a tool — essentially "tracing" parts of their work.
Read more…
The camera obscura has been around for a long time (Middle Ages long) and typically consisted of a box or room with a hole in one side through which an image of its surroundings could be formed. As you can see from the example above, any room — in this case a bathroom — can be turned into a camera obscura given a small enough "aperture." Unfortunately, most rooms have big, blaring windows that let in too much light, and the only image formed on the opposite wall is a shadowy blob.
In the name of forensics, however, Antonio Torralba and William Freeman from MIT have discovered a technique by which they can turn any windowed room into a camera obscura, using a couple of stills of the room to magically gather an image of the outside world. Read more…
Artist Chris Fraser creates beautiful light displays by turning rooms into giant camera obscuras. Rather than use a single pinhole as the lens, he bores numerous holes into the walls to create layered patterns of light. He writes,
My light installations use the 'camera obscura' as a point of departure. They are immersive optical environments, idealized spaces with discreet openings. In translating the outside world into moving fields of light and color, the projections make an argument for unfixed notion of sight.
If you went outdoors to observe the solar eclipse yesterday, you might have noticed that the shadows cast by trees had suddenly become quite strange. The tiny gaps between leaves act as pinhole lenses, projecting crescent shaped images of the eclipsed sun onto the world below.
Read more…