Posts Tagged 'behindthescenes'
The story behind a 'fun project' that turned into a 500px top 100 image
Oct 25, 2013 · Kamerakind
·

39 Comments »

·
Photographer Jordan Matter's Dancers Among Us photo series and book has earned him the kind of viral fame that many a photographer dreams of, but more inspiring than his success is his attitude and the joy he seems to take in his work. Read more…
It might be hard to believe in retrospect, but it turns out that Steve McCurry's most famous photograph, the iconic 'Afghan Girl,' was almost passed over for the cover of National Geographic in 1985. Read more…
Photographer Richard Renaldi's 6-year-long project Touching Strangers has been an incredible success. From viral Internet fame to a full-fledged photo book that exceeded its Kickstarter goal eight times over, there's something profoundly moving about complete strangers posed together, sometimes quite intimately, on the streets of NYC.
In the video above we get a behind the scenes look at how Renaldi does what he does, and how his subjects, sometimes reticent at first, often wind up feeling at ease and connected to this perfect stranger they didn't know existed 10 minutes ago. Read more…
When we first covered Brandon Stanton and his Humans of New York project almost a year and a half ago, he had accumulated about 3,000 portraits of people from around New York City. Now that number has grown to over 5,000, and the blog that started it all has birthed a book and the kind of viral fame the Internet it known for.
Fortunately, this isn't the kind of viral fame that comes with posting a video of a cute cat doing a silly thing, Stanton's project has inspired many thousands of people by shedding light on the sometimes extraordinary, sometimes touching and sometimes tragic stories of normal people. Read more…
Back in early July, we got a chance to share photographer Pelle Cass' intriguing Selected People series with you. For this series, he combines hundreds of exposures to create what amounts to a time-lapse in one frame: showing what a particular location looks like over the course of many hours, but capturing it as a single moment in time. Read more…
Update: The footage has been taken down at the request of Jimmy Fallon's publicist.
---
If you're planning on using a baby in a future photo shoot, take note: you can't really control their emotions, and they can't really control their bladders. Of course, if you know what you're doing, you could end up with some unexpectedly great pictures anyway. Read more…
Purists might not take to all of photographer Erik Almas' work, and in particular the work featured here, but if you can get over the fact that these are composites that necessarily need some help in the computer to come to life, Almas' advertising photography will blow your mind. Read more…
In some cases, it seems like the stars align, the sea parts and the universe itself conspires to help you get the perfect shot. That's sort of what happened to photographer Richard Crawley when he attended a Rolling Stones concert in the 1970s and wound up with the most famous shot he would ever take. Read more…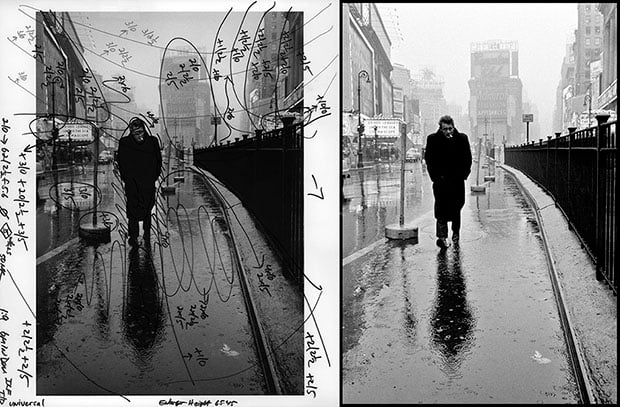 Want to see what kind of work goes into turning a masterful photograph into an iconic print? Pablo Inirio, the master darkroom printer who works at Magnum Photos' New York headquarters, has personally worked on some of the cooperative's best-known images. A number of his marked-up darkroom prints have appeared online, revealing the enormous amount of attention Inirio gives photos in the darkroom.
Read more…