Posts Tagged 'astrophotography'
A few days ago I was lucky enough to capture Jupiter's triple moon transit right from my driveway in Denver.
Read more…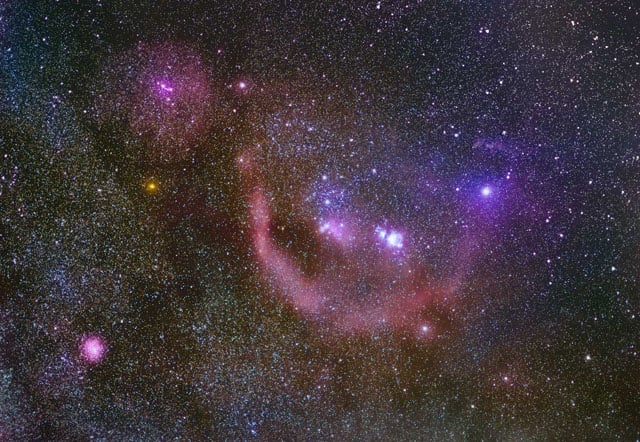 Here's a tutorial that will teach you how to photograph and process one of the most colorful parts of the night sky, the Orion constellation. It will walk you through all the steps of planning, shooting, and processing a photograph of Orion and the colorful features in it.
Read more…
The image above may seem like some kind of artist rendering, but it's an actual true color photograph showing Saturn, its rings, and one of its moons. Click here for a full-resolution version of the photo.
Read more…
UK-based videographer Cal Thomson recently got into astrophotography and creating time-lapses of the starry night sky. After receiving good responses from viewers, Thomson decided to create the short and to-the-point video tutorial above on how you can create a night sky timelapse using your DSLR.
Thomson shot his images with a Canon 6D and Tamron 24-70mm f/2.8 lens in RAW so that the images could be pushed further in post with Lightroom 5. "I think the effects are quite astounding for a first try," he says.
(via Cal Thomson via ISO 1200)
On April 1st, 1995, the Hubble Telescope captured a photograph that became one of the most iconic space photos ever captured. Titled, "Pillars of Creation," the image shows the gigantic columns of interstellar gas and dust of the Eagle Nebula 6,000 light years away.
Now, 20 years after that image was created, scientists have recreated that image using the same space telescope (shown above).
Read more…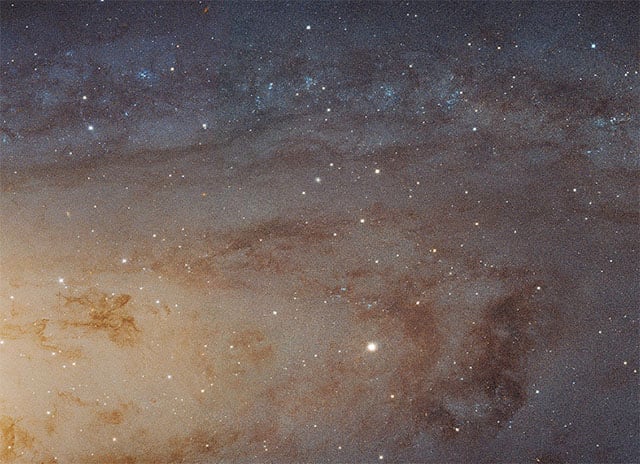 NASA has released the largest and sharpest photograph ever made of the Andromeda Galaxy, the nearest spiral galaxy to ours that contains an estimated 1 trillion stars. The new image (above is a crop showing a portion of it) weighs in at 1.5 gigapixels (i.e. 1.5 billion pixels); it's so big that you would need 600HD televisions to display the entire digital photo.
Read more…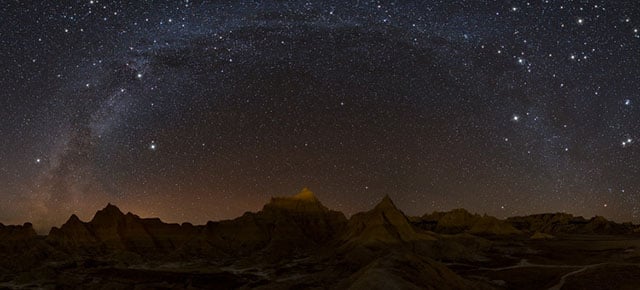 Due to the rotation of the Earth, it appears as though the stars are moving through the sky in long exposures. Star trails can be a desired effect when done for much longer exposures, but in other cases we want points of light to represent how we see the stars with our eyes. To achieve points of light you can use a simple rule that's often called the "500 Rule".
Read more…
Israel-based astrophotographer Gadi Eidelheit recently managed to capture the International Space Station crossing the moon on camera. In the video above, we see how fast the ISS appears to travel when seen by an observer here on Earth (it spends less than 1 second in front of the moon).
Read more…
I recently captured this picture of Jupiter, the 5th planet from the Sun. It was well received and many liked it. Lots of people wanted to know how to take a picture like this and what it would cost, and surprisingly I did this on a relatively low budget for astrophotography.
Here's a rundown of how it was done, including a list of all the gear I used. Read more…
In astrophotography, a star tracker is a piece of gear that compensates for the Earth's rotation so you can take sharp long exposure photographs of the night sky.
Unfortunately, not everyone can get their hands on one of these, and so we've dug up this awesome tutorial by astrophotographer Forrest Tanaka on how to capture impressive astrophotography images without a star tracker.