Posts Tagged 'art'
Mar 24, 2014 · Ryan Trimble
· Comment ·
Back in June, graffiti artist Sofles was featured in a hyperlapse that showed him making his way around an abandoned building and creating various impressive tags at super speed. That video was received very well, so naturally, if one graffiti artist is good, four would be four times better right? Read more…
If you're already of the opinion that Instagram has infiltrated too much of your life, we suggest you stay away from London for a little bit, because Brazilian artist Bruno Ribeiro is bringing the familiar filtered frames into the real world with his project Real Life Instagram. Read more…
Over a half a billion Apple iOS and Android systems have been sold, which means that there are now an unprecedented number of cameras in the world. This monumental increase in smartphone cameras has allowed for the dramatic increase of photos uploaded to social media sites.
I'm often overwhelmed by the fact that I can upload photos to Facebook, Instagram, Tumblr, Flickr, 500px, VSCOcam, Artflakes, Snapchat, Google+, Twitter, Pinterest, EyeEM, and on, and on, and on. Through such apps, a half billion photos are uploaded to the Internet each day. The sheer scale and accelerated growth of mobile photography and social media integration, which I'll call the new photography, has quickly changed photography in just a few short years. Read more…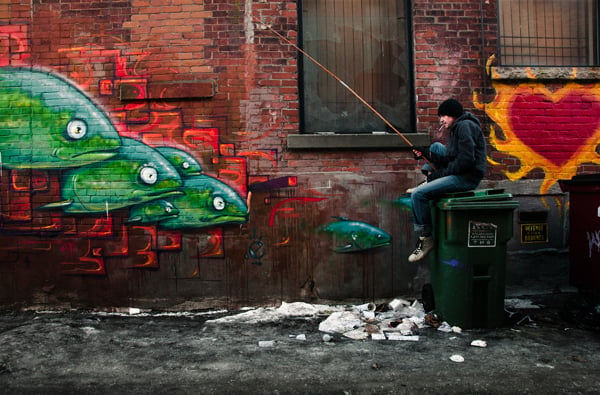 French photographer Julien Coquentin's series Please Draw Me a Wall is a curious combination of street art and photography. By having his subjects (sometimes himself) interact with wall art as if it were real, he creates fantasy worlds using only a few props and drawings that some call art and others defacement. Read more…
Certainly there's ample artistic precedent for including a dead animal or two in a still-life. Old Master paintings are rife with images of freshly killed ducks, bunnies and fish awaiting a trip to the dinner table.
Photographer (and certified taxidermist) Kimberly Witham slyly subverts that tradition with "Domestic Arrangements," a series of still-life photographs that combine modern kitchenware and other items of domestic life with birds, squirrels and other animals retrieved from the roadside. All items come from within a short radius around Witham's New Jersey home.
Read more…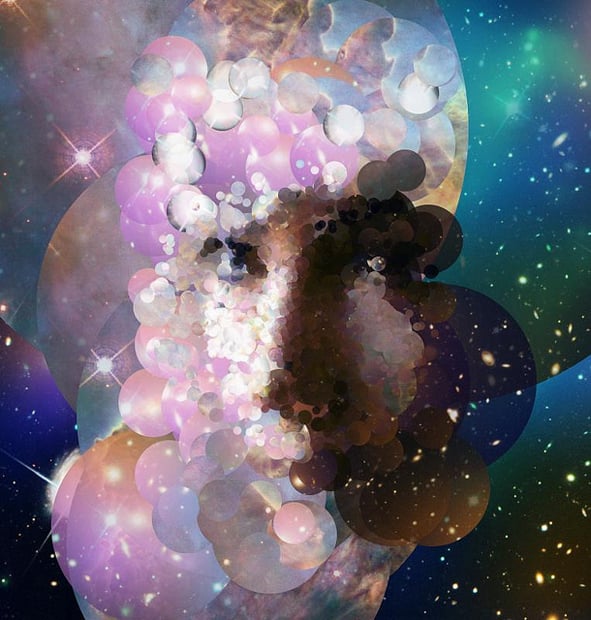 Spanish visual artist Sergio Albiac is offering the world a chance to meld with the universe in an innovative project that combines portraiture with images from the Hubble space telescope.
Albiac calls his "Stardust" project "an experiment in generative portraiture."
Read more…
Voted "The Most Brilliant Artist of the Netherlands" in 2009, Dutch artist Diet Wiegman is a master of his craft. But of all the amazing creations he has to his name, his work with light and shadow is most breathtaking. Using garbage, pieces of glass and other rubble, he creates a sculpture that, with the help of a light source, projects a beautiful image onto a wall. Read more…
Elaborately staged tableaus have become a staple of fine-art photography and something of their own medium — the artistry of a Gary Salter or Annabel Mehran image is as much in the building of the scene as the actual photography.
Read more…