Posts Tagged 'analysis'
Analyzing the hauntingly-modern portrait of Lincoln assassination co-conspirator Lewis Powell
Oct 25, 2013 · Michael Sacasas
·

37 Comments »

·
Data is embedded in our environment, in our behavior, and in our genes. Over the past two years, the world has generated 90% of all the data we have today. The information has always been there, but now we can extract and collect massive amounts of it.
Given the explosion of mobile photography, social media based photo sharing, and video streaming, it's likely that a large portion of the data we collect and create comes in the form of digital images. Read more…
Photographs like the one above by photographer Shikhei Goh go viral on a fairly regular basis. If the stories are to be believed, given enough patience and a little (or a lot) bit of luck, animals can be captured doing all sorts of amazing things.
According to an analysis published on Weibo, however, the stories can't (or rather shouldn't) be believed. Photos like these, the article claims, are staged by photographers who force pet store animals into awkward and unnatural poses. Read more…
As post-production software continues to become more and more powerful, researchers are doing their best to keep up by developing new methods of spotting digital photo fakes. In the past, we've seen that noise patterns and even Twitter trends can help spot fakes, but a new method out of UC Berkeley is taking a look at something else entirely: the shadows. Read more…
What can we learn about a city or event using Instagram photos? More than you might think. This interesting chart takes a look at what we can learn about Hurricane Sandy, simply by looking at an organized visualization of the Instagram photos taken during the storm. Read more…
The original title for this article was going to be "Group Buying Deal Review: Why WagJag Can Suck It". After receiving an "offer" to participate in a group buying deal (also known as social buying or deal-a-day. Examples include Groupon and LivingSocial) from one of the larger local group buying companies in my area, it took me a few days, and some good advice from my wife to cool down and write this (mostly) rational analysis of the group buying deal economics.
Read more…
Want to see how the prices of various compact and mirrorless cameras stack up against each other? 1001 Noisy Cameras created this handy chart showing the prices of RAW-capable compact cameras on the market.
Read more…
After reading the great reviews of the Fuji X100S, I decided to take the leap and buy one. I've been getting more interested in street photography lately, and this camera seemed like a good fit. Plus, it's supposed to sync at all shutter speeds, which is great for flash photography outside in bright sun. David Hobby and Zack Arias both have nice in-depth reviews.
But, things are rarely perfect. It turns out that the X100S can't sync at f/2 unless you're at around 1/1000 or slower on the shutter. Nice, but still, I was curious why that is. So I decided to run some tests to figure it out.
Read more…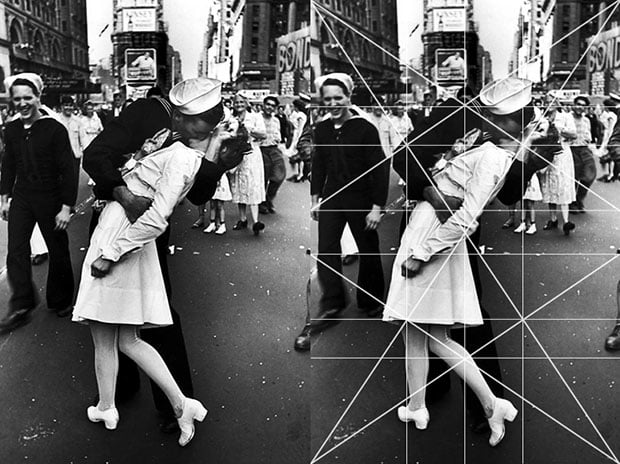 Has someone ever asked you why you like an image? Beneath the surface of great picture, there is a geometric design in hiding. During World War II, photographer Alfred Eisenstaedt worked for the early version of the Associated Press and went on to become a Life Magazine photographer, taking over fifty cover shots for them. Without getting too deep into Eisenstaedt's personal story, I will say that he started photography with very little formal training.
Read more…
Walker Evans' famous photo book "American Photographs" was first published in 1938. Since then, the book has been released in new editions every 25 years or so. Although the photos contained within its covers have remained the same, the processes and technologies used to print the photos have evolved over time, causing each edition to be every so slightly different from the others.
Read more…