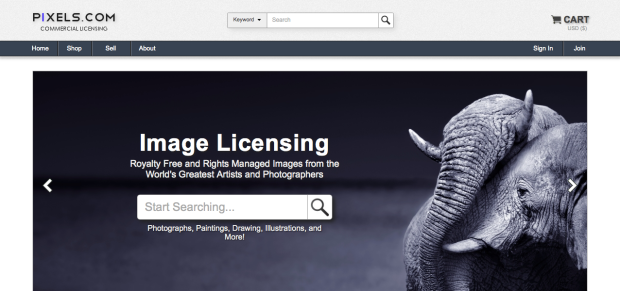 In an attempt to potentially flip the imaging licensing market on its head, Pixels.com has launched a new platform that puts the photographers in control for a change. By allowing image creators to manage every aspect of the process — from prices, to what the license entails — they're hoping to completely change who holds the power in the image licensing marketplace.
The idea came together after Sean Broihier's Fine Art America, a print-on-demand company that is already home to hundreds of thousands of artists and their work, decided to branch out. But it wasn't until Getty decided to allow their 35-million deep archive to be used non-commercially, without compensating the creators of the images, that Broihier and his team finally got the kick they needed.
Speaking with Fast Co. Create, Broihier explains:
There was just a firestorm of complaints from photographers following that move. That sort of finally pushed me over the edge. I knew we already had millions of images and we have artists who are happy with us because we treat them fairly. So I said, let's see what happens.
It works in a somewhat similar fashion to how Apple operates their iOS and Mac App Stores. Rather than having a specific set of prices that must be used, the photographer can choose to set the price at whatever they please, with Pixels.com getting their contributions by means of a 30% markup.
So if a photographer sets the price of a royalty-free image at $100, Pixel.com bumps up the price to $130 and keeps the extra $30 of markup. Thus, in this particular example, the photographer makes off with 77% (and 100% of what he or she wanted in the first place) while Pixels.com makes 23%.
As to why they're utilizing this method, Broihier told Fast Co. Create:
Artists and photographers are understandably frustrated with being dictated to by the leading companies in the image licensing space. We're changing that. If you're an artist or photographer, you should be able to dictate the price for your images. This doesn't have to be a race to the bottom.
The draw to Pixel for buyers of images is twofold. One aspect is Pixels.com's already immense archive of images that are completely unique to their site. The other aspect is that their platform allows for quick and easy searching of images, allowing filtering by means of license type, medium, orientation, color and beyond. In the words of Broihier, "If you want to find an image of a painting that can be licensed to use on the cover of a book, you can do that in two clicks"
Combine the easy accessibility for purchasers with Broihier's claim that, "due to our flexible pricing system, we've attracted artists and photographers who simply refuse to license their images anywhere else," and you have an enticing offer that appeals to both sides of the market.
It's not going to be easy going up against giants such as Getty Images and Shutterstock, but the feedback from much of the photo community shows that plenty of photographers are looking for any option that allows them to ditch the giants. Only time can reveal the fate of this platform, but if there's enough pressure from Pixels.com and like-minded services, it might be enough to sway the options offered by the established agencies.
Be sure to head on over to Pixels.com to check out their offerings and sign up if you're wanting to give it a shot. And don't forget to let us know our thoughts on the platform, what it could mean for our industry and what improvements, if any, could be made to their approach.
(via Fast Co. Create)