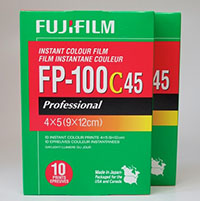 Just because a film is killed off doesn't mean you'll never see it on store shelves again.
Case in point: Chris Gampat over at The Phoblographer is reporting that a small batch of Fujifilm's discontinued 4×5 FP100C professional color instant film will be hitting store shelves at a handful of shops (e.g. B&H, Adorama, Urban Outfitters) in the US in mid-May.
It appears that a batch of fresh film "was found in a recent inventory check." If you're a die hard fan, get your wallet ready, as you might want to stock up during this brief resurrection.